by John David and Open Sky Press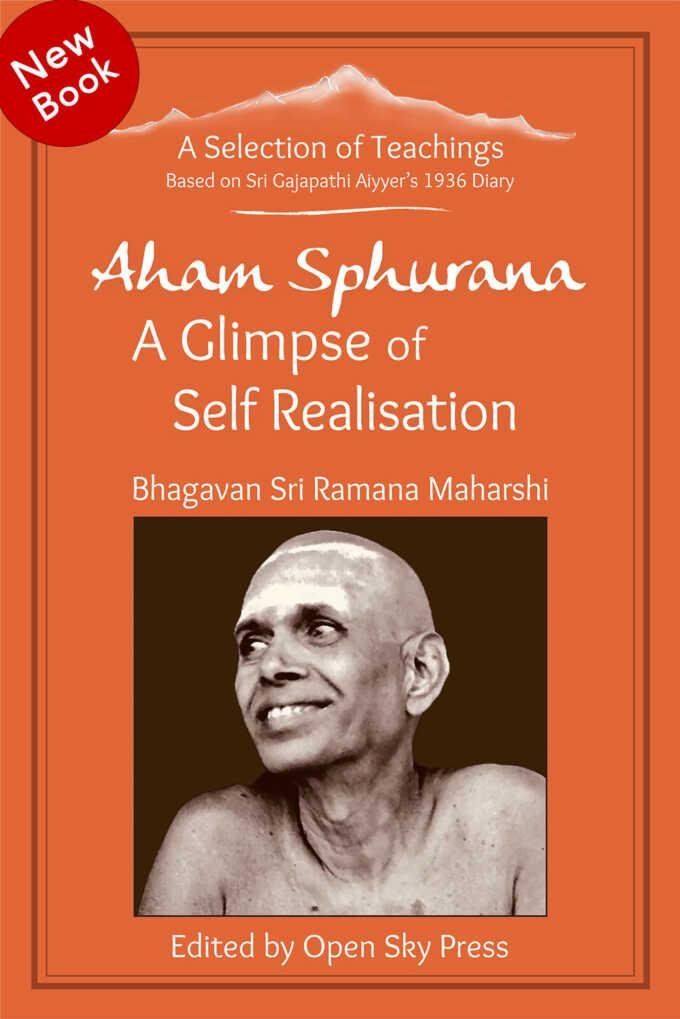 Aham Sphurana – A Glimpse of
Self Realisation
Fascinating dialogues and stories of Sri Ramana Maharshi recorded by Sri Gajapathi Aiyyer in the summer 1936, at Ramana Ashram.
This book contains a selection from the complete manuscript Aham Sphurana. This selection, a brilliant treasure, speaks for itself. Beside the detailed teachings on Self-Enquiry, Surrender and Jnana, it exposes a new glimpse of Bhagavan's personal day-to-day life at fifty-six, in his middle age.
The Book is available in English and German, as Ebook and Paperback.
Interviews with Twelve Spiritual Teachers
Fascinating life stories from Remarkable People inspiring the lives of many trough their Clarity and Radiance. Each of them a spiritual magnet.
In John David's penetrating interviews they intimately share what has not been heard before about their life story and the time spend with their spiritual master.
Beautifully designed, with various color fotos of each teacher. 
John David's Multi-faceted Approach to Freedom
The pointless Joy of Freedom is an indispensable guide for facing the modern world.
Inspired by quotations from powerful spiritual figures throughout history, this book gives a deep understanding of John David´s teachings and his multi-faceted approach.
With 30 short biographies of ancient and contemporary masters.
The Great Misunderstanding
In a simple, humorous and direct way this book deconstructs our conditioning to perceive ourselves as separate from the world and from life itself.
Step by step it reveals how we can find true happiness, peace and love, which is in fact  inside of us.
A down to earth guide to a profound understanding about our  life.
A book which opens your heart and guides us to see that we are not the experience of "my life", but rather the awareness in which the experience happens.
In eight inspiring talks John David lays out in depth but also with a sense of humour the main issues that everybody meets on the path to Awakening. 

John David has been interviewing sixteen important Indian Spiritual Masters. The result is a compendium of astonishing wisdom about the biggest secret of all times: the Nature of our True Self and how to realise it.
This boock answers all questions of the spiritual search and is for everyone who has an inner passion to find out who they are.
Published in two volumes. 
European Spiritual Masters
Unique Dialogues with fourteen European Spiritual Masters who have taken their knowledge of Indian traditional teachings and combined it with their knowledge of Western psychology to offer a unique transmission perfect for the Western seeker. An amazing variety of insights about the spiritual journey to Awakening. 

The Teachings of Sri Ramana Maharshi
Beautifully illustrated with 100 photographs, Arunachala Shiva paints an intimate picture of Bhagwan Sri Ramana Maharishi's life and takes us behind the scenes to moments with his closest disciples. New Commentaries lay out his teachings and offer unexpected and astonishing insights. The many different perspectives allow the reader to find their own deeper understanding.
Interviews with Seekers of Enlightenment - And how they found it
15 powerful interviews with seekers for Truth who sought out Papaji in the period from 1990-1997. An intimate and rar look at the Master – disciple relationship and into different moments of Satori.

Beautifully illustrated with quotes and photos pages of Papaji and his disciples.